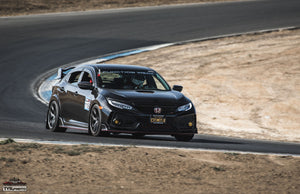 Product Release: 2017+ Honda Civic Type R Race Performance Pipe & Front Pipe (2.0T)
Description
Newly released Race Performance Pipe and Front Pipe options now available for all 10th Gen 2.0T Honda Civic Type R (2017+) to improve performance and exhaust flow!
Features
In consideration for heat protection, the Race Performance Pipe option was engineered with brackets to retain the factory OEM shielding.
Our Front Pipe was also engineered for tuners, featuring an extra bung for wideband purposes/use. The bung will come plugged and can be removed with a 10mm Hex for immediate use.
Bolts have also been welded onto the catback side of the Front Pipe to ensure ease of installation, as work space is very limited in this area.
Performance Gains
Without a tune, gains of 7 HP & 24 TQ has been achieved with the Race Performance Pipe + Front Pipe option. Our parts have also enabled for higher peak torque to be achieved around 600 RPM earlier than stock and around 200 RPM for peak horsepower.
(Numbers may vary slightly due to variations in factors and variables during time of testing.)
Weight Specs
| | | |
| --- | --- | --- |
|  Part | Function Werk | OEM |
| Race Performance Pipe | 5.8lbs | 11.0lbs |
| Front Pipe | 7.2lbs | 10.4lbs |
Weight savings come in at around 5.2lbs for the Race Performance Pipe while the Front Pipe gets 3.2lbs shaved off from OEM.
Application(s)
2017+ Honda Civic Hatchback - Type R
Build
All products are made with the highest quality 304 Stainless Steel. They are also welded with the highest craftsmanship for durability and deburred after the welding process, oriented for true performance.
---